(2021-22) "FOUND"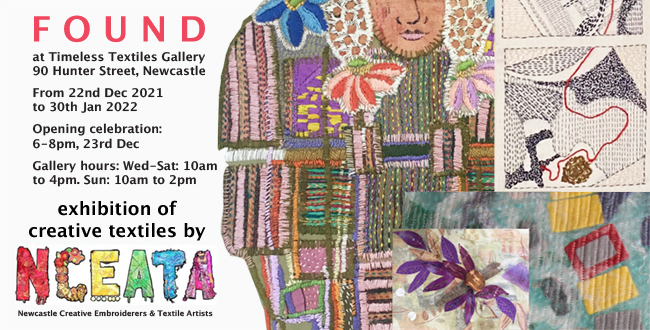 The Newcastle creative embroiderers and textile artists group have used FOUND as the theme for their 2021-22 exhibition of creative textiles.

The many varied interpretations of the theme and the interesting combining of unusual as well as familiar textile techniques ensures that this exhibition will interest and entertain many. Members of this vibrant group come from across the Hunter and Sydney areas and as far south as Camden and have continued working creatively together throughout the isolation of the pandemic.

The theme FOUND gives these textile artists full scope to recycle, upcycle and recombine unexpected found objects into new textile artworks.
FOUND BONDI 2020 by Jill Wagner
This triptych tells the story of the hundreds of surgical masks that were found washed up on Bondi Beach in May 2020 after dozens of shipping containers fell into rough seas. As the pandemic took hold, the incident highlighted the sense of urgency felt around the world to procure this simple yet essential PPE object.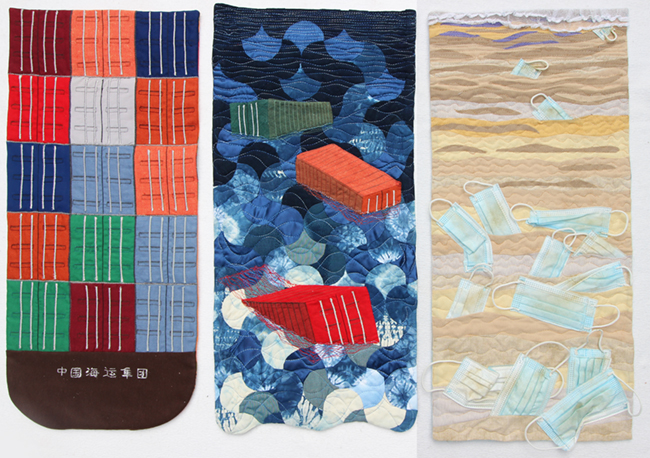 GAIA by Connie Allen
Gaia envelopes the Earth. She is constructed on a found lamp shade frame with found materials and embellishments.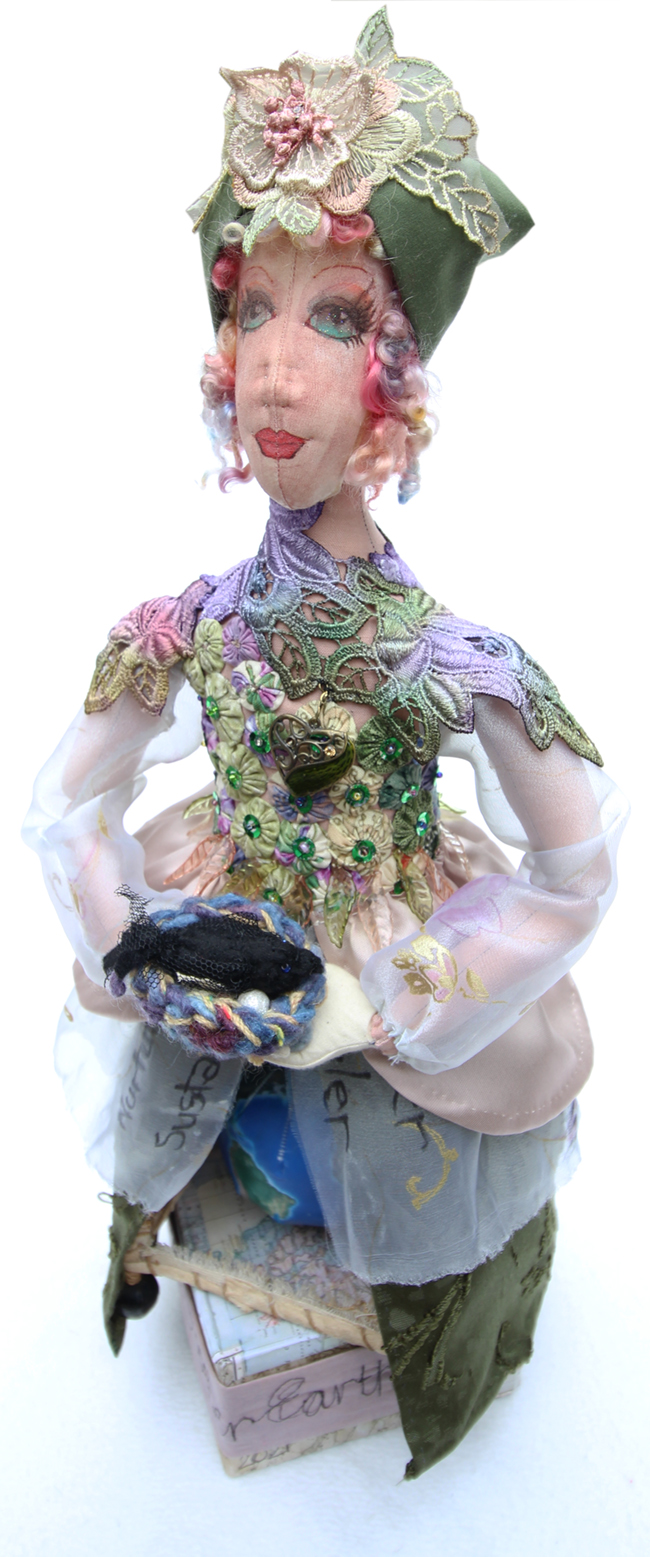 HONESTLY HONESTY by Doris Baxter-Gordon
Many years ago the artist found a mirror with it's frame embossed in an honesty/Lunaria design which is based on the Lunaria or Money plant which has irridescent, silvery, circular leaves. She has found this design in her memory and it can now be found in this artwork made from found pieces of organza.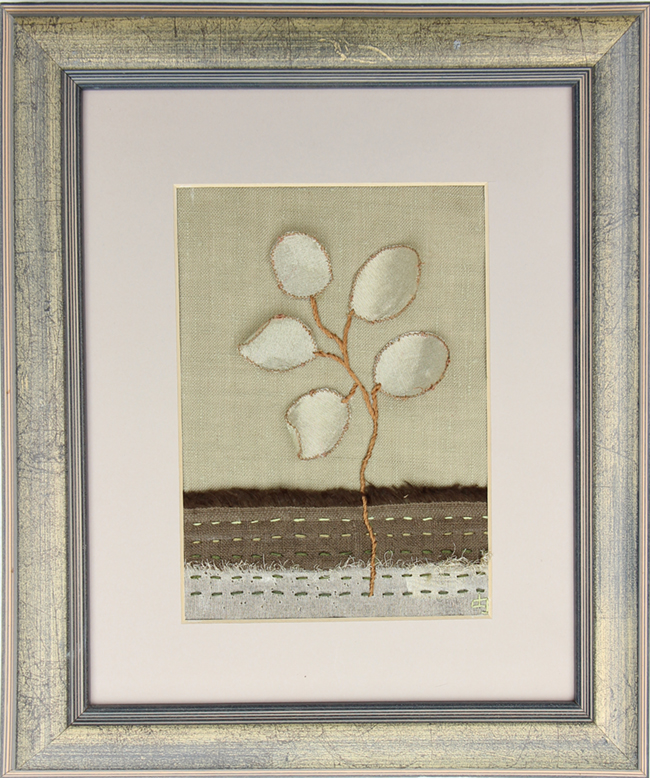 WISHING WISHBONE by Doris Baxter-Gordon
An old collection of wishbones was found but the reason for keeping them could not be remembered. The artist included one in her artwork which found old memories of positive thoughts and being lucky. Does anyone still break and wish a wish on a wishbone?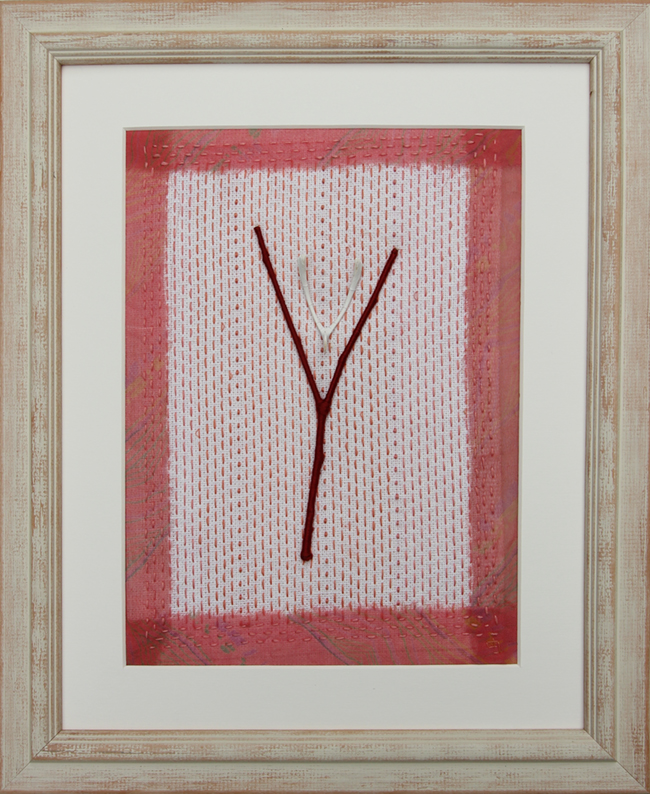 LOO LOO by Shirley Bjornsson
Collected toilet rolls were found and sewn together to have a new life as a wearable suit. Left over toilet paper is made beautiful as a corded necklace.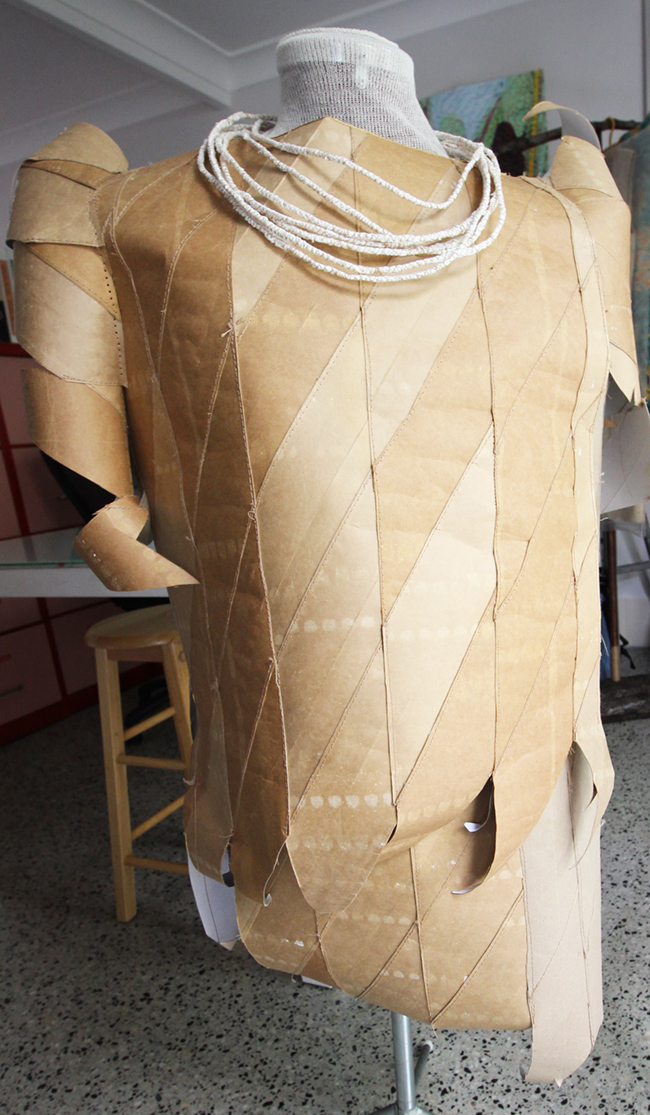 SCROUNGING INSPIRATION by Pauline Blake
Leaves and a Bangalow palm pod were found while walking in the bush. The leaves were crocheted with found grandmother's old cotton thread.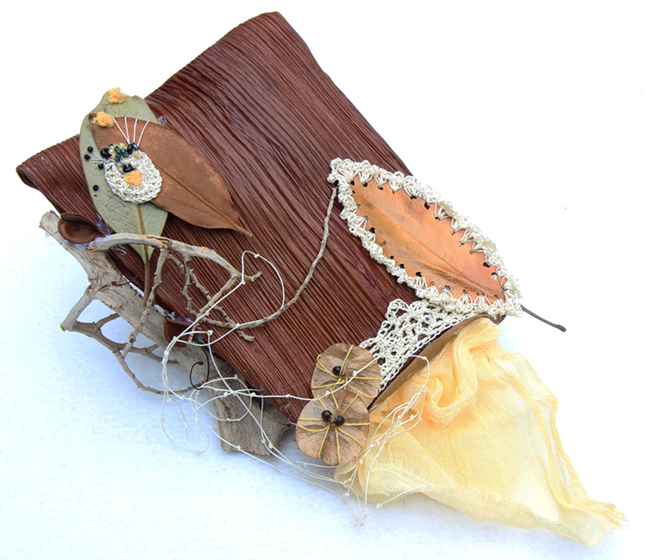 VISITING AUSTRALIAN BUSH by Pauline Blake
Found objects from a loved bush walk are combined with other found objects for new life as a sculpture.
TIES WITH STYLE by Robyn Cohen
Found old ties were made into a colour coordinated jacket from a found pattern.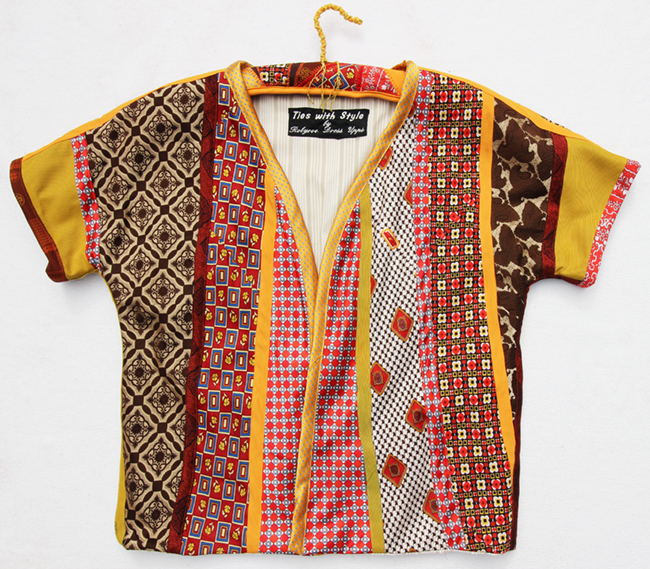 DE-railed by Sandra Cooke
Objects found along disused rail tracks are part of this work about the network of tracks, stations and sheds that lay waste across our country while oversize road trains clog up and damage our unsafe roads.

ELEMENTAL FINDS by Ann Harper
Found items represent the elements: earth with opal piecs, fire with banksia, air with feathers and water with shells.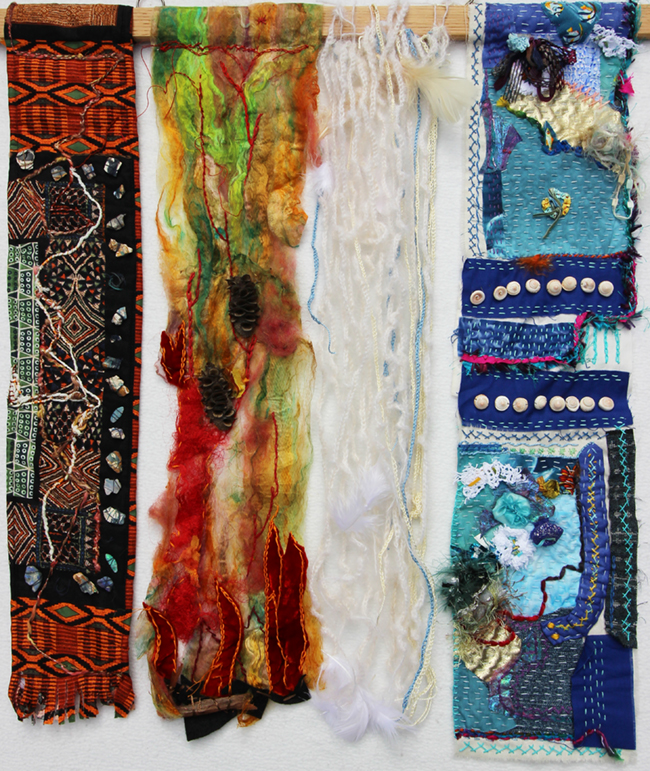 FOUND IN THE BOTTOM DRAWER by Ann Harper
A flamboyant interpretation of found items from the bottom drawer where bits from previous creations rest.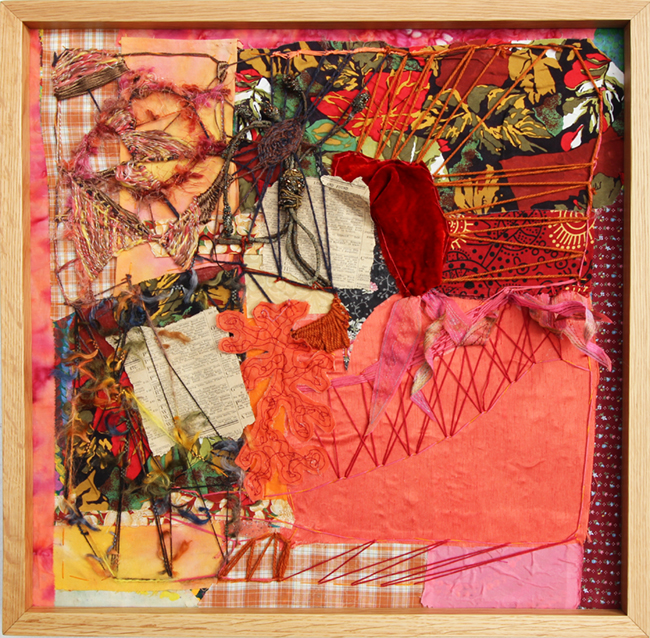 ESCAPING MEMORIES by Kate Highland
A cloisonne bangle was found after many years and raised memories of when it was worn most of the time but memories that have escaped, diminished and faded.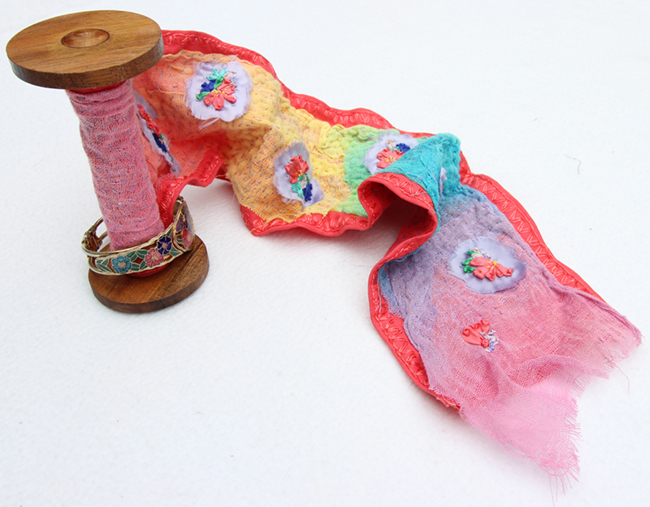 METAMORPHOSIS VESSEL by Ann-Maree Kelly
A discarded felt bag found by chance has been tranformed into a decorative vessel. It has been given a new life with a different purpose to be displayed and enjoyed.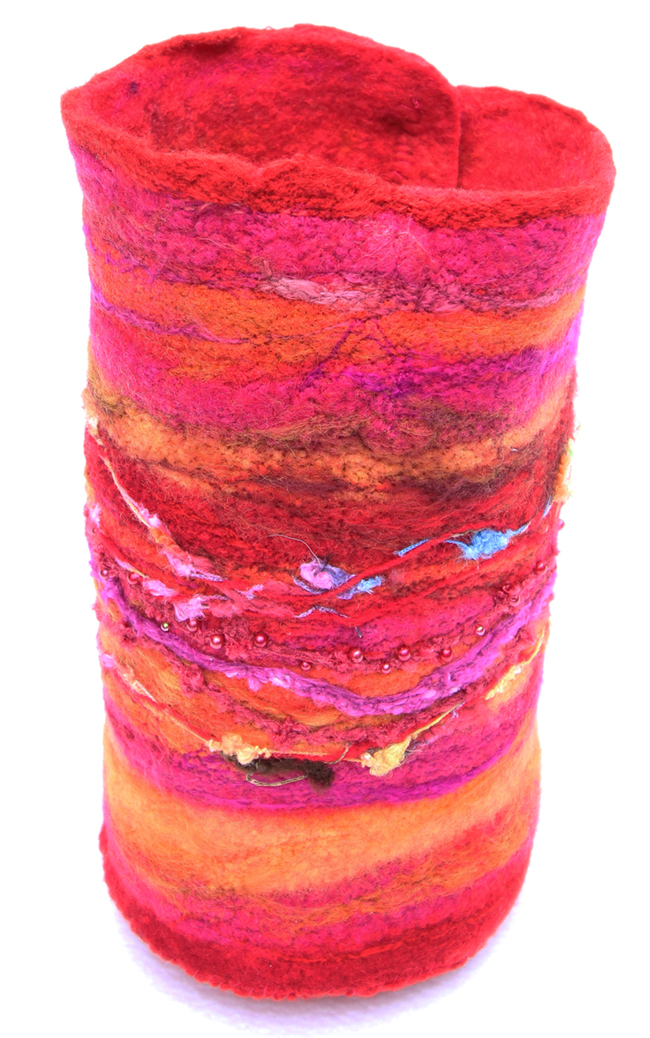 FOUND ROCKPOOL by Ann-Maree Kelly
An assemblage of found objects: on the beach, in the stash - is reimagined as the sealife in a rock pool.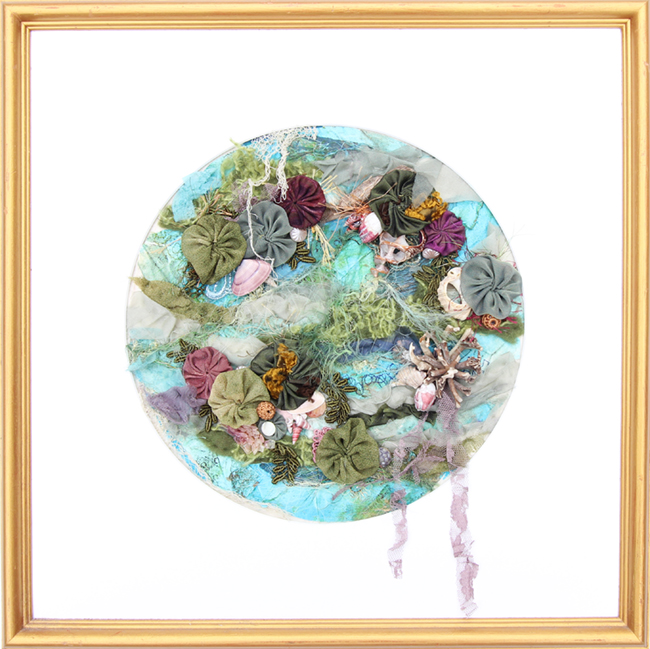 SLOW FASHION by Maija Manou
"Slow stitching" has been used to explore "slow fahsion". Both movements have been around for a while but more needs to be done to reduce waste and the impact of the fashion industry. Other movemens like upcycling, swishing (swapping) and fibre recycling have grown but microfibres (textiles made from plastics) are still entering our oceans and polluting our world.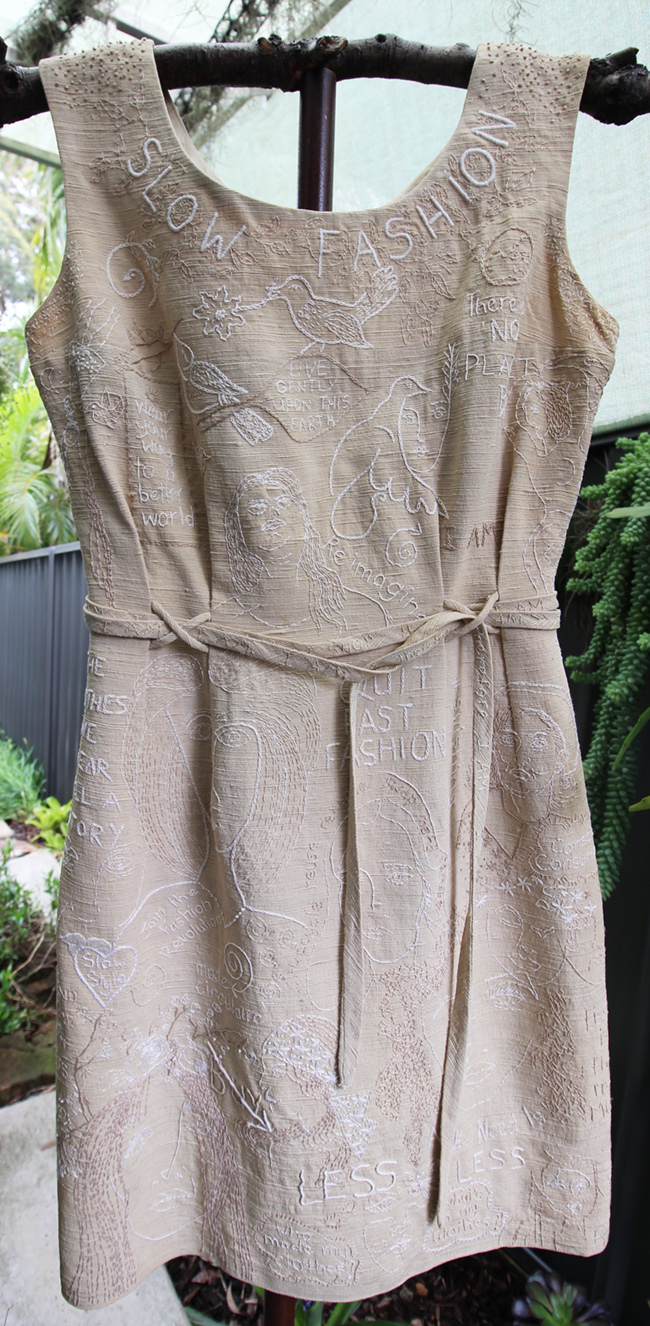 WHIMSICALLY TEA by Maija Manou
Op shop finds and objects forgotten in the garage have been found, enclosed in felt and given a new life for this still life arrangement.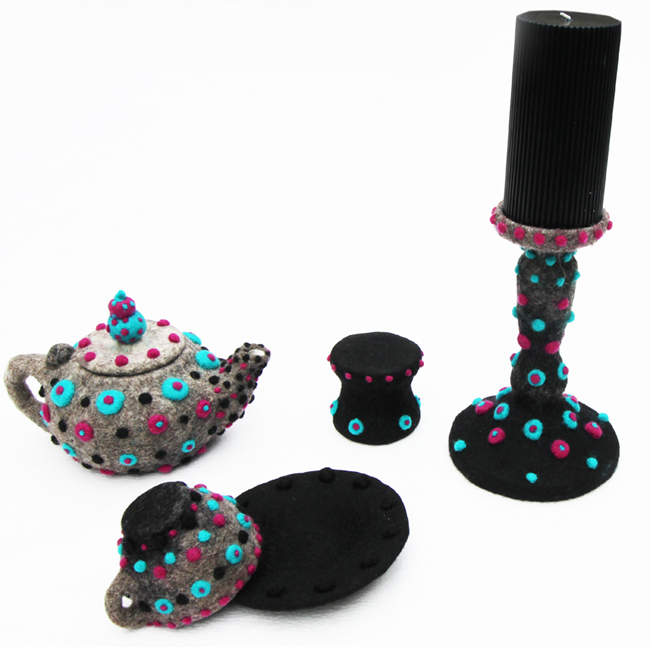 MORNING FOG CLEAR DAY by Judi Nikoleski
Mohair, angora and merino wool scraps as yarn, roving, knitting and felt have been found and qulited inside found organza. This two sided work is a playful, textured exploration of two aspects of the day: morning fog lifting gracefully from the suburb during a cool morning and the following beautiful clear day.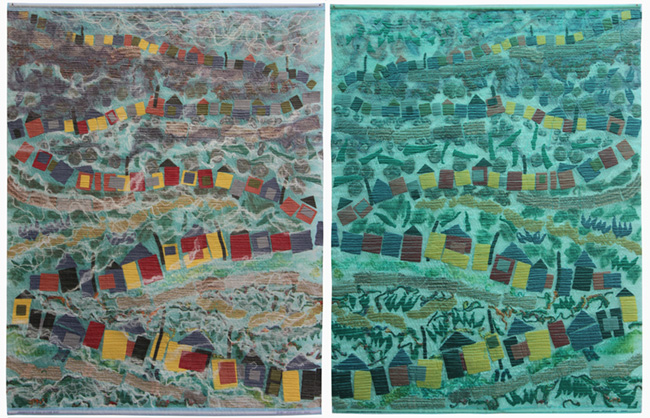 REMEMBER VERA by Judi Nikoleski
Found treasured textiles and photographs of hand crafted toys, all made by Vera, have been combined in this memorial of a very creative woman.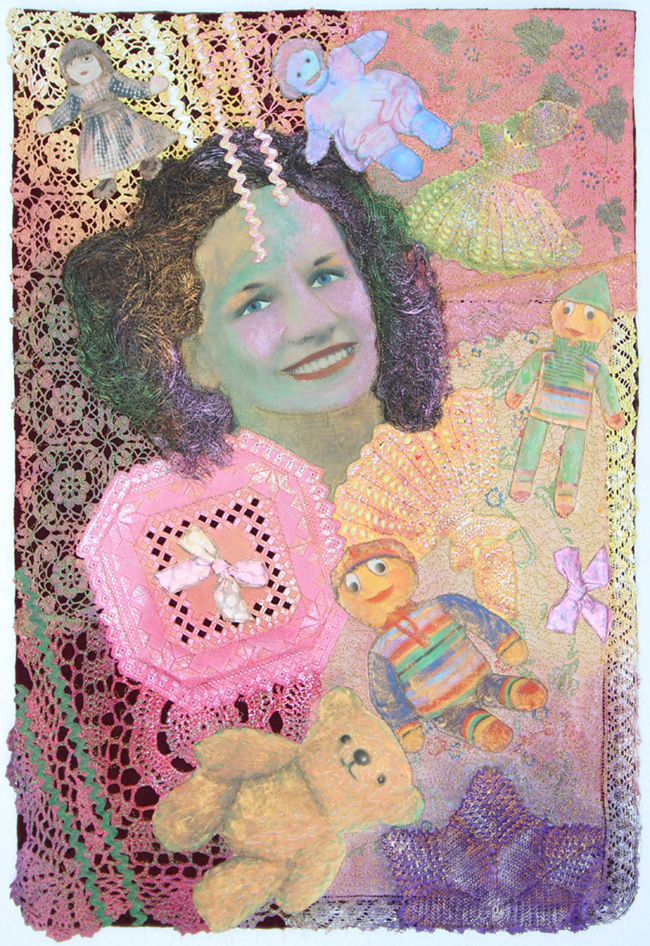 FLOODED RIVER DEPOSIT by Suzie Parkes
The power, colour and impact of flooding river water inspired this work. The river transports belongings and objects and deposits them where they can be found and used for another purpose. The found object is present in this work as multiple rust prints.

LIGHT KEY by Rhonda Porter
This drum lampshade started with a large number of found keys owned by the artist's late brother Richard. The keys are incorporated as rust prints.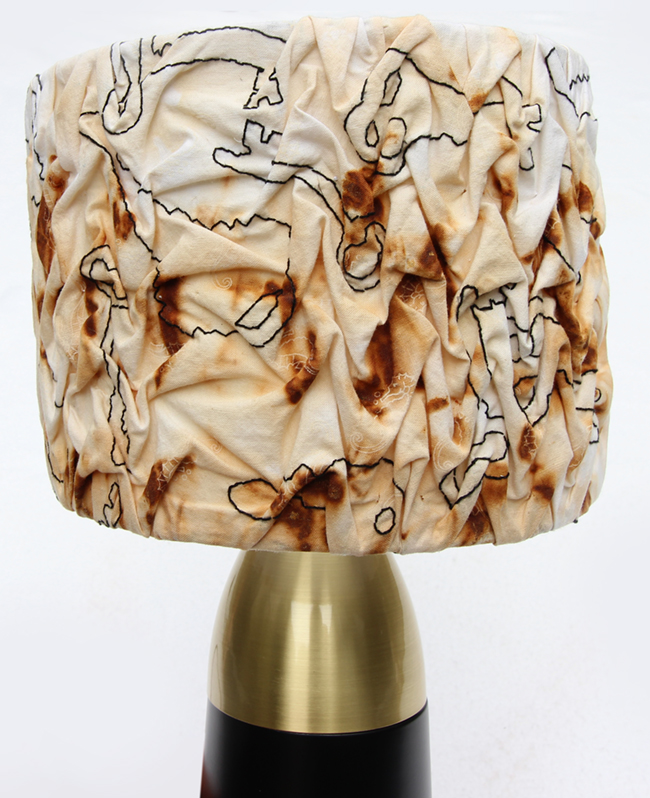 DOROTHY'S SHOES By Suzanne Russell
Dorothy from "The Wizard of Oz" was desperate to find her way home. Clicking the heels of her red shoes was the how she found her way.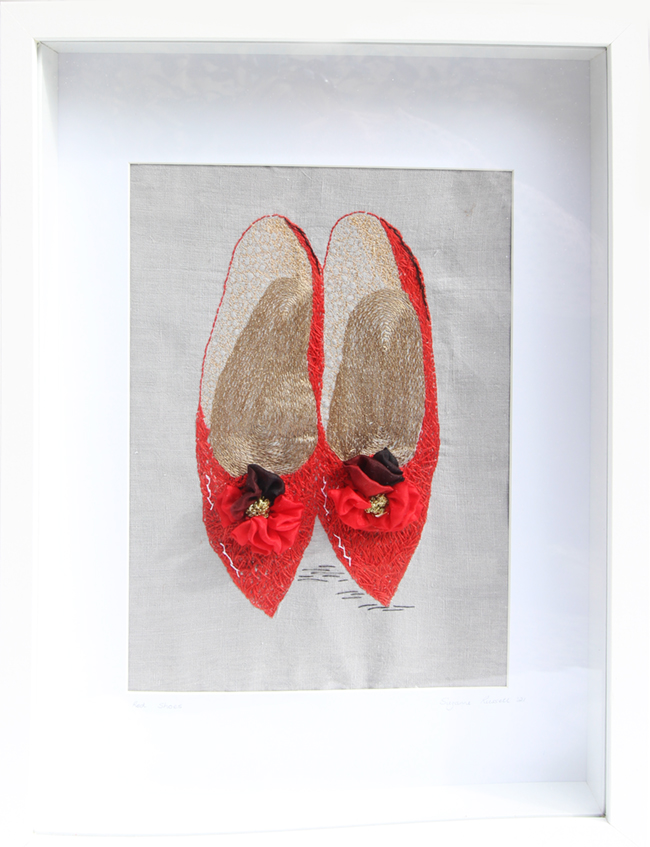 MISPLACED IN VENICE by Suzanne Russell
Aerial map of Venice where the artist was "misplaced" but eventually found her way home.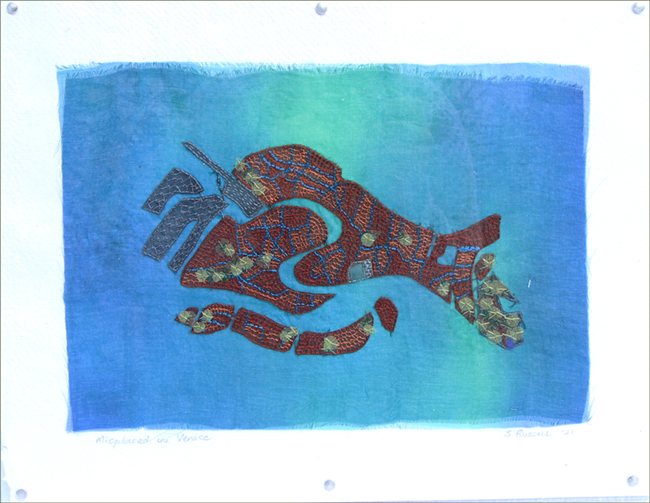 VENICE - BURANO by Suzanne Russell
Venetian fishermen's wives painted their homes bright colours so that their fishing men found their way home.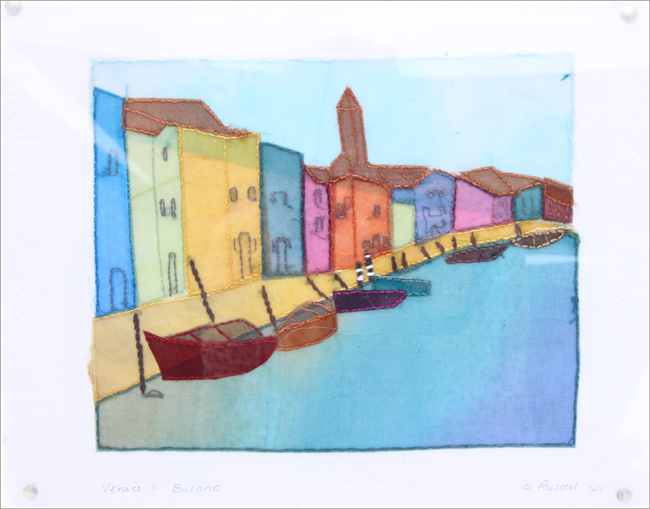 FREEDOM FOUND by Wendy Scott
A found screen print has been surrounded by a collage of found scraps and embellishments, then hand stitched and embroidered on to organza.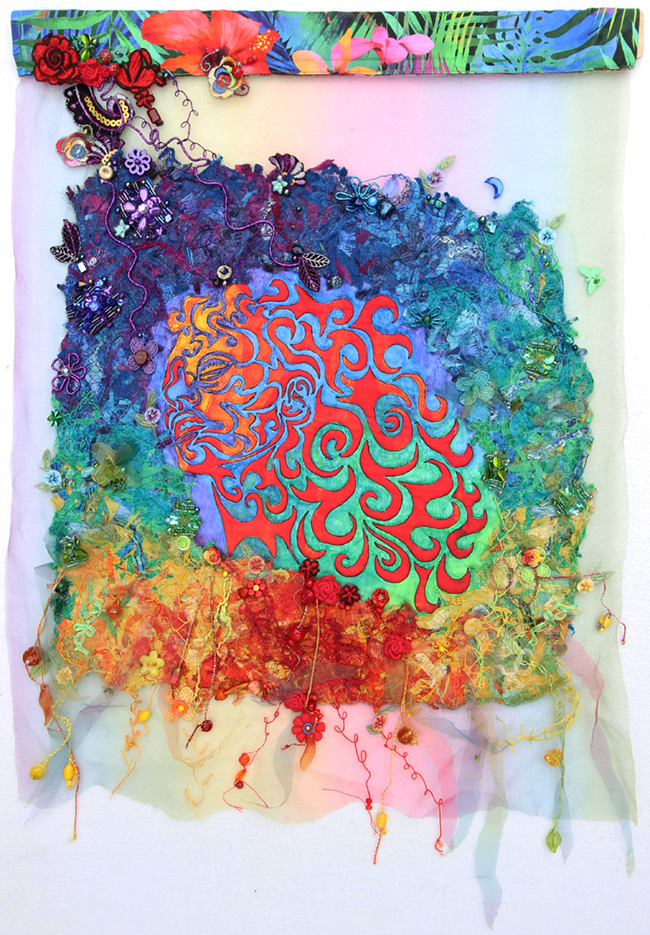 BEACH FINDS by Wilma Simmons
Beach finds are placed in ironic juxtaposition with a polymer clay face. This colourful representation of underwater life raises questions of the future of ocean life in spite of human plastics and the effects of climate change.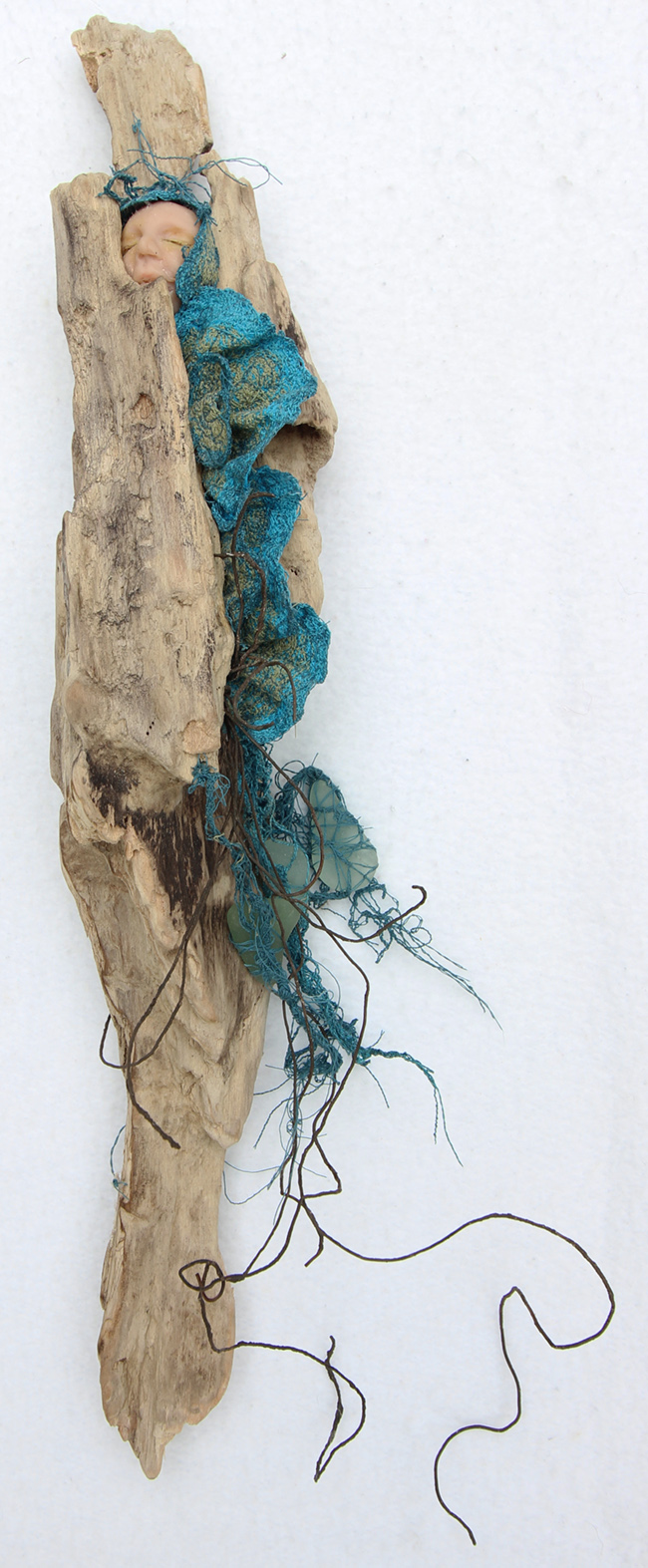 WHERE YOU'LL FIND ME by Wilma Simmons
The artist is found at her work table on most days. From a sketch of items found on this table she abstracted the shapes of headphones, a cuppa, books and patterns.The gold pendant in the work was found in her button stash and valued at $200 with provenance unknown.

ALTER-ed by Ruth Spence

A chair back found on the street has been reinvented by hand stitching a cut and rearranged found embroidery, using the chair fame as the picture frame. It gave new life to found objects in an exciting, creative way.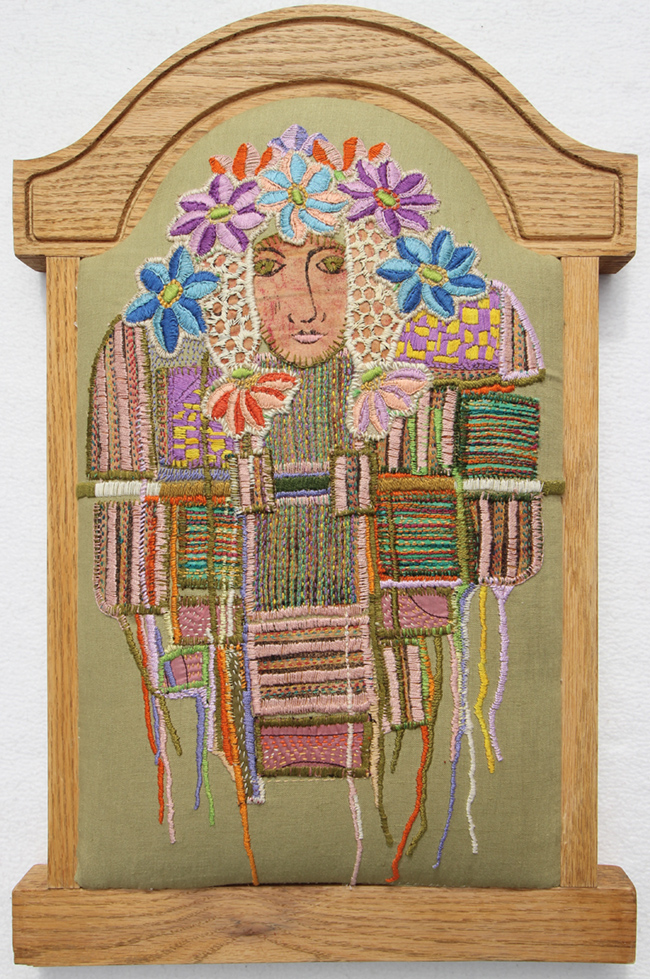 STASH GEM by Gail Stahmer
This backpack was created from very old, faded denim found in a friend's stash, cut into strips and knitted to form a new outer fabric.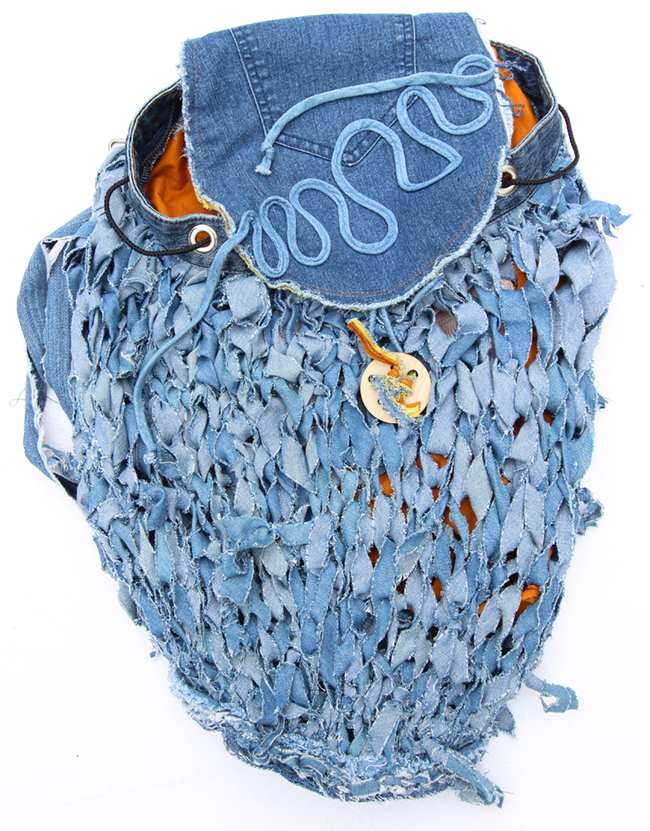 WASTE SPACES by Gail Stahmer
Jeans found in op shops have been saved from landfill with the dominant technique being unpicking the strong stitching on the jeans so as to reuse all the denim.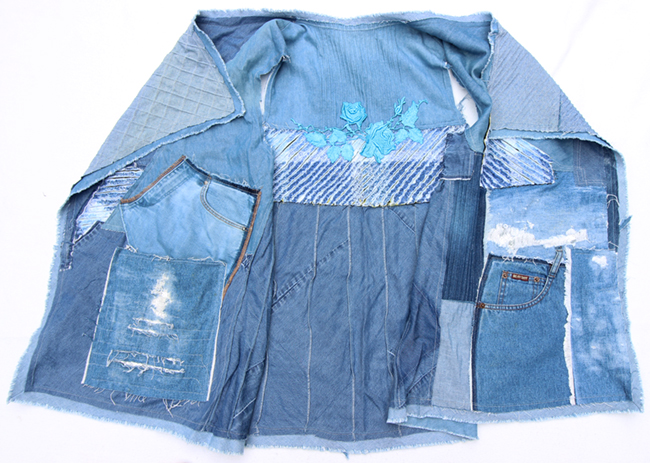 GOLDEN POD by Trish Thompson
A Jacaranda pod was found and painted to have a new life with 15 falling, beaded leaves.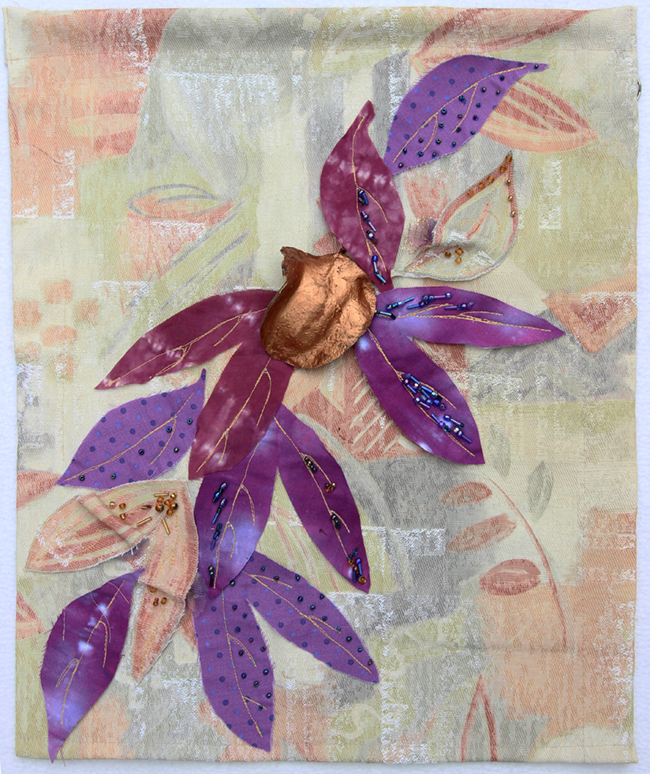 REDHEAD by Connie Allen
This was inspired by photographs of vistas taken while walking along Redhead beach: man on horse back, the iconic bluff, the shark tower and then the artwork was constructed from found materials.