The Newcastle creative embroiderers and textile artists group used ON THE EDGE as the theme for their 2nd 2023 exhibition of creative textiles. Members of this vibrant group come from across the Hunter and Sydney areas and as far south as Camden.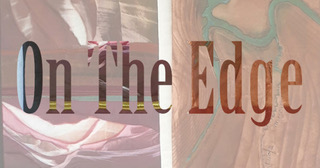 NCEATA's next Exhibition 'On the Edge' will be at Belmont Library
from Friday 15th December 2023 – Saturday 27th January 2024.
Opening at 2.30pm on the 15th December.
Plus NCEATA Textile Tasters Workshops for anyone interested age 8 and above
When: January 10th & 17th 2024
Where: Belmont Library, 19 Ernest Street, Belmont NSW
Cost: $25 materials cost (all materials provided, just bring yourself)

Wed 10th
9.30am-12.30pm : TEABAG TEALIGHTS with Carolyn Clausen
12.30pm-3.30pm : CREATING WITH INKTENSE PENCILS with Wendy Scott

Wed 17th
9.30am-12.30pm : CREATIVE BRAIDS with Judi Nikoleski
12.30pm-3.30pm : BORO: JAPANESE MENDING STITCH with Ann Harper

A SELECTION OF NCEATA MEMBERS' TEXTILE ART.
WHITE ROSE by Annette Tubnor
Cotton, machine pieced and quilted (45 x 45 cm)
FAIRY FLOSS by Gail Stahmer

CHANGING LANDSCAPES by Roberta Hodgson

ABC RANGE, FLINDERS RANGES by Sandra Cooke
Layers of painted sheer fabrics cut with soldering iron.
SEA SPRAY BAG by Carolyn Clausen
WALKABOUT COUNTRY by Judi Nikoleski (2 X 1 metre art quilt)
Best of Show and 1st in Contemporary Quilting & Patchwork
2009 Australian Cotton Fibre Expo
HYDRANGEA SKELETON by Sue Shute
Commercial cottons, hand-dyed silks and silk velvet, gold thread and paint (62 x 44 cm)
THREE BAGS by Shirley Bjornsson
BARRA TO BEAUTIFUL by Wendy Scott
LUNAR OBJET by Doris Baxter Gordon

BURNT OFFERINGS by Trish Thompson