The Newcastle creative embroiderers and textile artists group used FOUND as the theme for their 2021-22 exhibition of creative textiles.
The 2023 exhibition will be IKIGAI. DO NOT MISS IT. The many varied interpretations of the theme and the interesting combining of unusual as well as familiar textile techniques ensures that this exhibition will interest and entertain many. Members of this vibrant group come from across the Hunter and Sydney areas and as far south as Camden and have continued working creatively together throughout the isolation of the pandemic.

The theme of IKIGAI, Japanese for something that is your passion and gives meaing to your life, has provided these textile artists full scope to create new textile artworks and will be on view from 26th April 2023.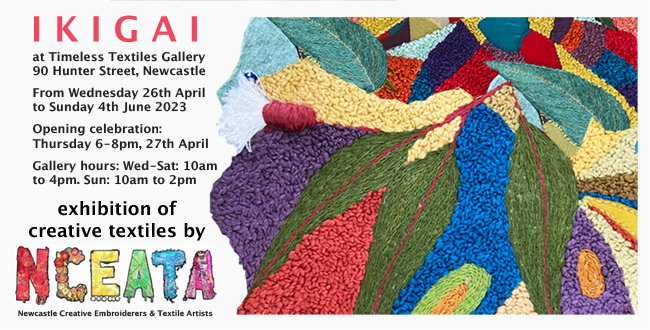 A SELECTION OF NCEATA MEMBERS' TEXTILE ART.
WHITE ROSE by Annette Tubnor
Cotton, machine pieced and quilted (45 x 45 cm)
FAIRY FLOSS by Gail Stahmer

CHANGING LANDSCAPES by Roberta Hodgson

ABC RANGE, FLINDERS RANGES by Sandra Cooke
Layers of painted sheer fabrics cut with soldering iron.
SEA SPRAY BAG by Carolyn Clausen
WALKABOUT COUNTRY by Judi Nikoleski (2 X 1 metre art quilt)
Best of Show and 1st in Contemporary Quilting & Patchwork
2009 Australian Cotton Fibre Expo
HYDRANGEA SKELETON by Sue Shute
Commercial cottons, hand-dyed silks and silk velvet, gold thread and paint (62 x 44 cm)
THREE BAGS by Shirley Bjornsson
BARRA TO BEAUTIFUL by Wendy Scott
LUNAR OBJET by Doris Baxter Gordon

BURNT OFFERINGS by Trish Thompson