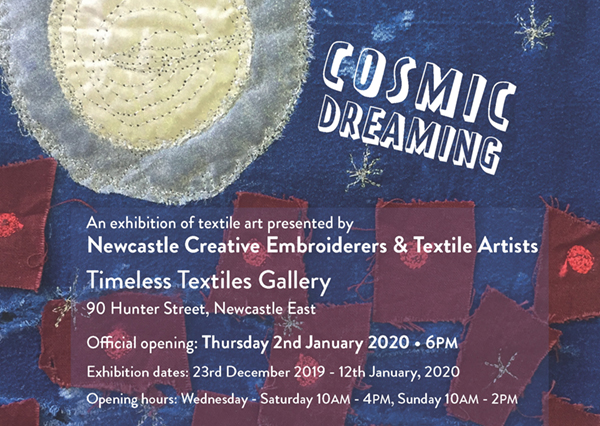 ALL WELCOME TO THE OPENING OF
NCEATA's CREATIVE THREADS exhibition
Wednesday 20th November, 5.30-7.30 pm at
Charlestown LIbrary, Smith St. Charlestown

---

For current monthly workshop details go to our MEETINGS webpage.
First time visitors are always welcome. Try us before becoming a member.
Membership is $50 per calendar year to be part of our vibrant, supportive group.

Our meetings are held on the 3rd Saturday and 3rd Monday
of each month 10am to 2.30pm in the back church hall,
130 Garden Grove Parade, Adamstown in Newcastle NSW.
NCEATA's PROGRAM FOR THE NEXT SEVERAL MONTHS
NOVEMBER 2019
THURSDAY 14th > Set up Creative Threads exhibition Charlestown Library (Judi Nikoleski and Sandra Cooke)
SATURDAY 16th > General meeting: xmas party,
Items due for Cosmic Dreaming exhibition,
Gathering of themes for 2021/22 exhibitions,
Show and Tell of Cosmic Dreaming artwork with discussion on inspiration and techniques
SUNDAY 17th > Art Bazaar: Lambton Park
MONDAY 18th > General meeting: xmas party,
Items due for Cosmic Dreaming exhibition,
Gathering of themes for 2021/22 exhibitions,
Show and Tell of Cosmic Dreaming artwork with discussion on inspiration and techniques
WEDNESDAY 20th, 5.30-7.30pm > Launch of CREATIVE THREADS exhibition
Charlestown Library (Judi Nikoleski and Sandra Cooke)
SUNDAY 24th > ART BAZAAR at Lake Macquarie Gallery, Booragool

DECEMBER 2019 SUNDAY 22nd & MONDAY 23rd > Set up COSMIC DREAMING exhibition at Timeless Textiles Gallery
(Coordinator and Curator Wilma Simmons with helpers)
MONDAY 19th > General Meeting: Slow Stitching workshop with Wilma Simmons
WEDNESDAY 25th > Xmas day
THURSDAY 26th > Boxing day

JANUARY 2020 THURSDAY 2nd, 6pm > Opening event for COSMIC DREAMING at Timeless Textiles
SATURDAY 18th > General Meeting: Voting on theme for 2020-2021 exhibitions
+ $10 workshop - Felted Flowers with Connie Allen
SUNDAY 12th > COSMIC DREAMING closes - collect work from gallery
MONDAY 20th > General Meeting: Voting on theme for 2020-2021 exhibitions
+ $10 workshop - Felted Flowers with Connie Allen
TUESDAY 21st, 1-3pm > CREATIVE THREADS at Charlestown Library
TEXTILE TRYOUT workshop for children
MONDAY 27th > Australia Day

FEBRUARY 2020 TUESDAY 4th, 12.30-4.30pm > CREATIVE THREADS at Charlestown library
TEXTILE TASTERS adult workshop
SATURDAY 15th > General Meeting: FUSION focused workshop with 4 NCEATA members
MONDAY 17th > General Meeting: FUSION focused workshop with 4 NCEATA members

MARCH 2020 MONDAY 9th, 10.15am > COMMITTEE MEETING at Souths Club, Merewether
MONDAY 16th > General Meeting: $10 workshop - FOCUS ON FUSION with Rhonda Porter
SATURDAY 21st > General Meeting: $10 workshop - FOCUS ON FUSION with Rhonda Porter
THURSDAY -SUNDAY 26-29th > CRAFT ALIVE SHOW at Newcastle Racecourse

APRIL 2020 SUNDAY 5th > ART BAZAAR at Speers Point
TEXTILE TASTERS adult workshop
SATURDAY 18th > General Meeting: $10 workshop - TASSELS with Pam Hicks
MONDAY 20th > General Meeting: $10 workshop - TASSELS with Pam Hicks
SATURDAY 25th > ANZAC DAY

MAY 2020 SUNDAY 10th > Mothers Day
SATURDAY 16th > General Meeting: Gaye Nieuwenhof major workshop, $80 for the day
MONDAY 18th > General Meeting: Gaye Nieuwenhof major workshop, $80 for the day
MONDAY-THURSDAY 19th-21st > Hawkes Nest Retreat

JUNE 2020 MONDAY 8th > Queens Birthday
SATURDAY 15th > General Meeting: $10 workshop - DRY FELTING with Judi Nikoleski
MONDAY 25th > General Meeting: $10 workshop - DRY FELTING with Judi Nikoleski

JULY 2020 SATURDAY 18th > ANNUAL GENERAL MEETING
Bring textiles in to professionally photograph them. Applications for annual exhibition due
MONDAY 20th > General Meeting: $10 workshop - 3D SILK FLOWERS with Wendy Scott
Applications for annual exhibition due

AUGUST 2020 SATURDAY 15th > General Meeting: $10 workshop - BACK STRAP WEAVING with Maja Manou
MONDAY 17th > General Meeting: $10 workshop - BACK STRAP WEAVING with Maja Manou
SUNDAY 30th > ART BAZAAR at Lambton Park


---